Archive for September, 2020
Monday, September 28th, 2020
Ford of Canada hourly employees ratify a three-year, globally competitive labour agreement
New agreement includes a C$1.8-billion investment to build new battery electric vehicles at Oakville Assembly Complex
Operational improvements in the agreement will maximize production flexibility
Hourly employees receive wage increases, bonuses and other benefits
OAKVILLE, Ont., Sept. 28, 2020 – Ford Motor Company of Canada, Limited and Unifor have reached a new globally competitive national labour agreement establishing Ford as the first automotive manufacturer in Canada to build fully battery electric vehicles (BEVs) as part of a C$1.8-billion investment.
Based on the collective agreement ratified by employees today, Ford is committing to transform its Oakville Assembly Complex from an internal combustion engine (ICE) site to also become a BEV manufacturing facility, starting in 2024, as well as introducing a new engine program at its Windsor operations.
Employees have also voted in favour of the three-year agreement that enable several operational improvements to increase the efficiency of Ford's Canadian facilities, including:
Competitive alternative work schedules to maximize production flexibility
Enhanced temporary employee program
Ford of Canada's hourly employees also receive a number of benefits, including:
2.5% wage increase twice over the life of the agreement
C$7,250 ratification bonus for full-time permanent employees and $500 for temporary employees
Reduced grow-in period for new hires from 11 years to eight years
"Working collaboratively with Unifor, and as discussions continue with both the federal and provincial governments, this agreement is an important step toward building a stronger future for our employees, our customers and our communities," said Dean Stoneley, president and CEO, Ford of Canada. "By introducing battery electric vehicle production at Oakville Assembly Complex, we are cementing our Canadian operations as a leader in advanced automotive manufacturing."
Tuesday, September 1st, 2020
Regardless if you just bought a new car from Ken Knapp Ford or if you've had your car for a while, everyone can benefit from these car hacks. Enjoy this list of helpful tips our car specialists use and recommend to improve driving experiences.
#1 Gas Cap Side Indicator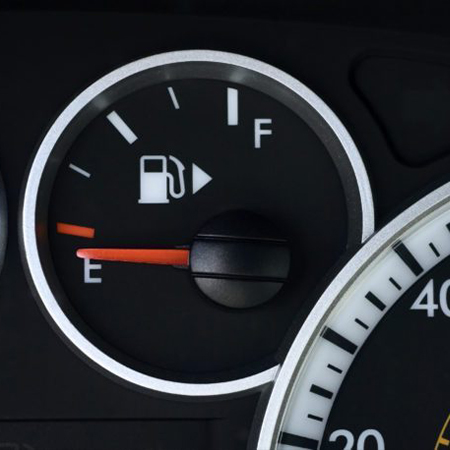 Can't remember what side your gas cap is on? In a new or borrowed car and forgot to look before getting in? You can always check what side the cap is on by using the fuel gauge. Whichever direction the arrow is pointing is the side that the gas cap is on.
#2: Buy a Car Garbage
We know that all of those Tim Horton's bags and cups are building up in your car. Amazon sells these awesome car garbages to keep your car looking clean and organized. https://www.amazon.ca/High-Road-StashAway-Storage-Pockets/dp/B01NBYS5U9
#3 Use Tooth Paste To Clean Your Headlights
Clear your foggy and hazy headlights using Toothpaste! Simply apply a layer of toothpaste onto your headlights with a toothbrush, rub it in, and then wipe it off using water. This will improve your visibility and the overall appearance of your car.
#4 Buy a Dog Car Seat Cover
Dog hair is a constant struggle for most dog owners. Buying a dog seat cover for your car is the easiest way to keep your fur babies' hair under control. Amazon sells a bunch of different styles and colours for you to choose from.
#5 Keep Your Food Warm Using Heated Seats
There is nothing worse than picking up McDonalds, Taco Bell or Dominos and it being cold when you get home. If you have heated seats, turn them up as high as they can go and place your take-out on the seat to keep it warm.