Archive for June, 2021
The Ford line-up already had a lot to offer but there was a segment missing… enter, the 2022 Ford Maverick. The compact pickup truck is here for those of us that need truck functionality but great fuel economy and a city fit. Here are the things we loved about Ford's newest model.
We are big fans of the Price and you should be too! 👀
The Ford Maverick is a small truck with a small price. Starting at $25,900 for an XL it has an appealing price for many buyers. You'd think at that price you would be missing some great standard features but you aren't. The Maverick comes standard with an 8" infotainment center with Android Auto and Apple CarPlay, a 2.5L Hybrid engine, and FordPass Connect (remote start on your phone). Even if you wanted the highest trim level to pack all the features you can, the Lariat starts at $34,540.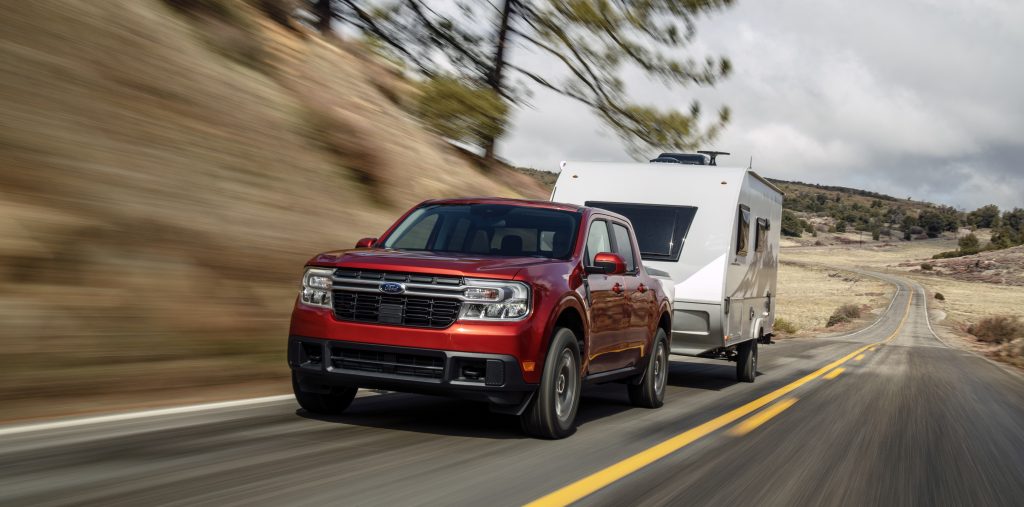 Truck functionality and great fuel economy? Sign me up. ⛽
Canada's first standard Hybrid pick-up truck is paired with a Continuously Variable Transmission (CVT) for seamless shifting. The 2.5L Hybrid engine has a targeted estimated 5.9 L/100 km city fuel consumption. That's the kind of fuel economy we need in our lives.
It's still a Ford truck. 💪
Don't be mistaken this truck is still Built Ford Tough. The Maverick offers an exceptional, 1,500-lb. standard max payload capacity. Towing for the weekend has never been easier with a 2,000-lb. base towing capacity and an available 4,000-lb. max towing capacity.
The truck has a practical 4.5-ft. bed with Multi-Position Tailgate and available smart storage solutions to support all your big projects.
Plus, the Maverick lineup offers three capable, efficient and versatile trims so you can be sure to find the features that fit your lifestyle.
Great things come in small packages! 📦
The Maverick gives you the best of both worlds: compact on the outside, but still big enough on the inside to seat five and store all your stuff. Standard full hybrid and impressive manoeuvrability make getting around the city just as easy as escaping from it.