Archive for the 'Tips & Tricks' Category
Friday, November 1st, 2019
The next generation for the Ford Escape is here. We take a look at our five favourite things about the 2020 vehicle.
1. Keep your head up kid! 
For the first time in North America a FORD vehicle has Heads-up Display (HUD). The six inch display will be an option on the Titanium trim level. The display will show plenty of driver assist features while allowing you to keep your eyes on the road. 
2.  A lot of second row leg space… like a lot
The second row of the 2020 Escape features more legroom than ever before. The back of the front seats having a sleek knee cut out design which has helped the vehicle achieve around 38.8 inches of legroom. The second row's comfort doesn't stop at leg space because the new Escape allows you to also recline.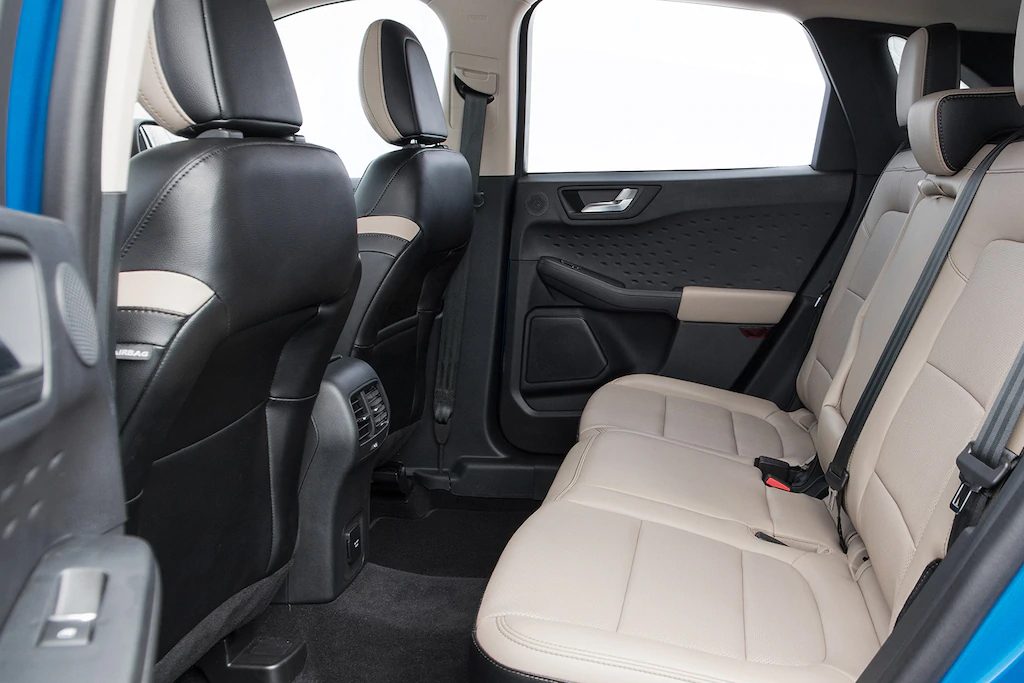 3. 
Cha Cha Sliding bench
The second row bench sits at a 60/40 split and allows each section to be slid individually. Whether you use the slide for comfort or to extend the cargo capacity from 34 cubic feet to 38 cubic feet is your choice and we know how important choices are. 
4. Safety standards? More like safety standard…
Safety is important from the driveway to the highway and this is why the 2020 Escape will have Ford Co-Pilot Technology standard in all trim levels. The bundle of driver-assist features includes Blind Spot Information System (BLIS®) with cross-traffic alert, Pre-Collision Assist with Automatic Emergency Braking, Auto High-Beam Headlamps, Lane-Keeping System and Rear View Camera.
5. Guess Who's back
Technically this isn't new but we have not seen an Escape Hybrid since 2012 which is our official unofficial time frame to be considered new again. The vehicle has a 2.5 L engine and 88 kW electric engine. Ford expects the Plug-in version of their new hybrid to be out in the Spring of 2020. 
The 2020 Escape is already available at Ken Knapp Ford in Essex. Take a look at what we have in stock here!
Thursday, December 6th, 2018
Winter is officially here and it's time to face the cold hard facts: Is your vehicle prepared?
One of the most important things to consider when adapting to the colder climate is your vehicle's tires. Having winter tires installed on your vehicle carries many advantages, including these 5:
1. Winter Tires Can Improves Your Stopping Distance
Special tread designs on winter tires help improve grip with the surface, allowing the vehicle to stop faster on snow and ice.
2. Winter Tires Can Provide Better Handling & Control
Winter tires can handle corners better than all-season tires in winter conditions.
3. Winter Tires Are Not Just For Ice & Snow
Soft rubber compounds remain flexible for better handling when temperates drop below 7º Celsius.
4. Winter Tires Can Save You Money
Many insurance companies provide discounts when winter tires are installed on vehicles, saving you money now and over time! Plus changing tires seasonally reduces wear on your original tires, helping extend the life and value of both sets of tires!
5. Vehicles With AWD/4WD Benefit From Winter Tires Too
All Wheel Drive or 4 Wheel Drive can help accelerate in winter conditions, but winter tires provide traction to help any vehicle corner and stop in ice and snow.
Does your vehicle have the right shoes on to combat the winter elements? If not, let our Parts Department show you all of your available options to make sure you have a safe and happy Holiday Season.
Wednesday, November 28th, 2018
If you've ever found yourself skidding on leaves you'll know that on the road – especially in the autumn – they can be a significant hazard for drivers
Ford engineers wanted to find out how they compared to snow, and came up with a smart way to find out
On the new Ford Focus Active, new "Slippery Mode" helps to reduce or mitigate skidding or swerving, especially for more slippery surfaces
They may be a crucial ingredient in creating the stunning autumnal landscapes so beloved by photographers, but in certain situations – when they are wet and in multiple layers – leaves can present a significant danger to drivers.
Those in the know have long compared the effect to driving on snow. But could the humble leaf really be as slippery as the white stuff? A group of Ford engineers have come up with an answer – after conducting a unique experiment in order to find out.
Getting the data for the snow was the easy part. This was sourced from vehicle testing in snowy Scandinavian locations. But there was no research to show how slippery leaves were. To fix that, the team gathered bags of leaves and used them to cover the test track at the company's proving ground in Belgium. They then called in the help of a friction-testing device that identifies how slippery surfaces are by rolling over them.
After testing they did indeed find that, in certain situations, the leaves were as slippery as snow.
"It was fun to conduct the experiment but there was a serious point," said Eddy Kasteel, development engineer, Ford of Europe. "Most people know to slow down and drive more cautiously for snow. But far fewer of us give the same respect to roads covered in leaves – that can be just as slippery."
Slipperiness is measured in units called µ. The more slippery the surface the lower the number. In testing, and at their most slippery, the leaves measured a µ level between 0.3 and 0.4. Typically, the same µ levels observed on snow surfaces
The same engineers helped to develop "Slippery Mode" for the all-new Ford Focus Active crossover that goes on sale next month. Designed to improve traction on surfaces including ice snow and wet leaves, the system makes rapid readjustments to stability systems, acceleration and braking to help prevent the car from skidding, swerving or deviating from its intended path.