Posts Tagged '2021 f-150'
Tuesday, December 29th, 2020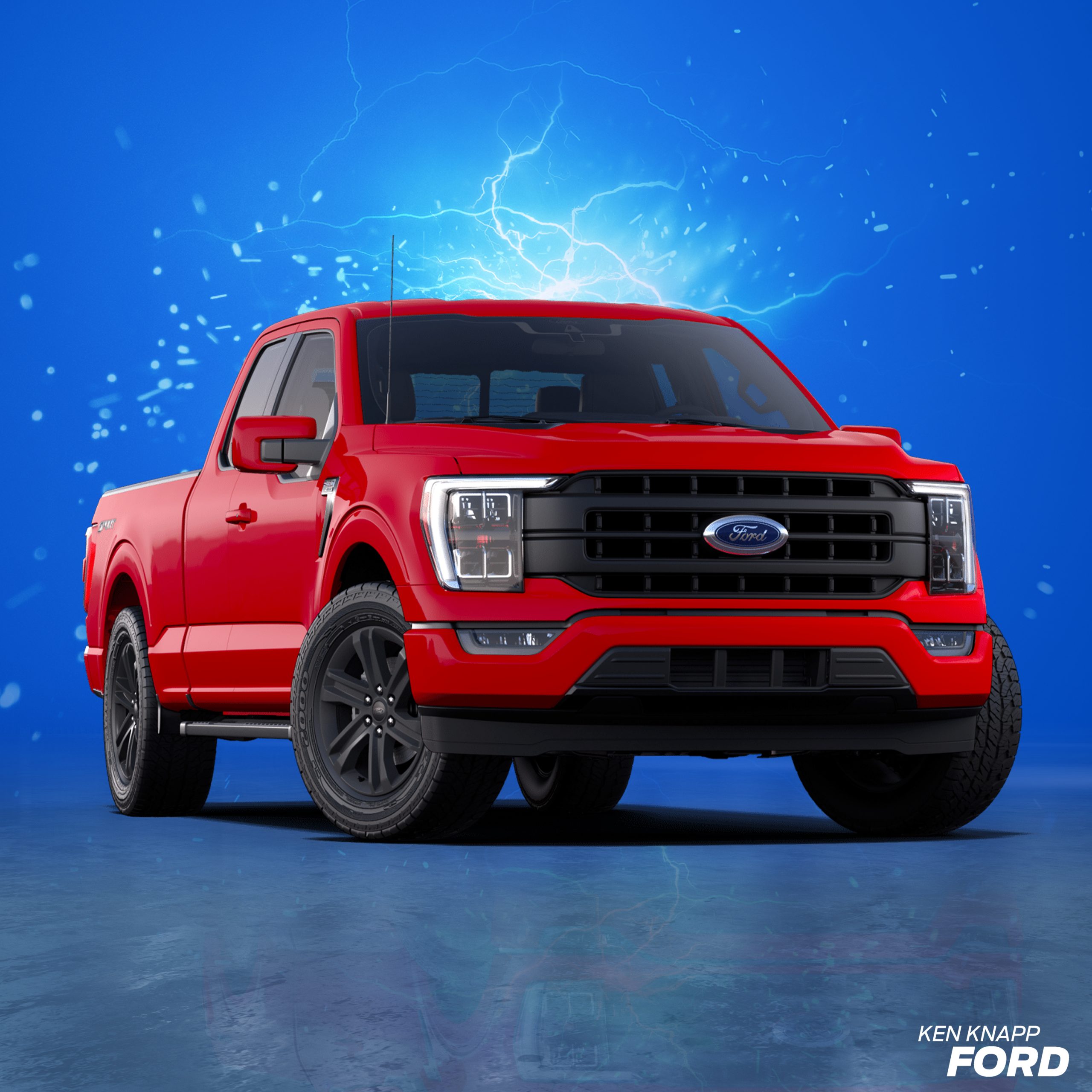 All-new F-150 with 3.5-litre PowerBoost™ V6 – the only full hybrid powertrain available in a pickup – has the best combined fuel consumption for gas-powered full-size light-duty pickups with a 9.3 litre per 100 km on 4×2 models based on the Government of Canada approved test methods
Strong fuel economy doesn't end at the pavement; 4×4-equipped PowerBoost F-150 has a combined fuel consumption rating of 9.8 litre per 100 km – best among 4×4 gas-powered full-size light-duty pickups
PowerBoost gives customers the ability to tow up to 12,700 pounds and haul more than 2,000 pounds confidently with 430 horsepower and 570 lb.-ft. of torque, while helping improve productivity by replacing standalone gas-powered electric generators with Pro Power Onboard™ featuring best-in-class standard exportable power of 2.4 kilowatts, with an unprecedented 7.2 kilowatts available
DEARBORN, Mich., Dec. 11, 2020 – Ford F-Series – Canada's best-selling pickup for 54 years – has once again advanced the state of the art in truck engineering with the all-new 2021 Ford F-150 – which is also a fuel economy leader among gas-powered light duty trucks.
The 3.5-litre PowerBoost™ V6 – the only full hybrid available in a pickup – has the best combined fuel economy rating for gas-powered full-size light-duty pickups with an estimated fuel consumption of 9.3 L per 100 km on 4×2 models. The 4×2 PowerBoost, with estimated fuel consumption ratings of 9.5 L per 100 km city and 9.1 L per 100 km highway, has an estimated range of 1,200 km on a single tank of gas*. The 4×4 PowerBoost has an estimated 9.3 L per 100 km combined fuel economy rating, which is best among 4×4 gas-powered light-duty full-size pickups. The 4×4 PowerBoost-equipped truck has an EPA-estimated range of 1,100 km on a single tank of gas**.
"Our team spent months living with and observing truck customers at their homes, on job sites and on the weekends," said Hau Thai-Tang, Ford chief product platform and operations officer. "Using electrification, we realized we could now give customers something they had long wanted but didn't think was possible – tremendous power, great fuel economy and all-new capabilities to make their F-150 even more productive."
Delivering 430 horsepower and 570 lb.-ft. of torque – the most torque ever for F-150 – the 4×2 PowerBoost truck is rated at a maximum 12,700 pounds of conventional towing with Max Trailer Tow Package and a maximum payload of 2,120 poundsƗ.
Pro Power Onboard™ is standard on PowerBoost-equipped F-150 with 2.4 kilowatts of exportable power on tap at outlets in the cabin and cargo box. The optional 7.2-kilowatt output provides up to 18 times more exportable power than the nearest competitor – enough to power everything from a tailgate event to a construction site.
The all-new F-150 features decades of innovation – from its high-strength, military-grade, aluminum alloy body atop a high-strength steel frame, to revolutionary EcoBoost® technology. F-150 is the only light-duty full-size pickup that comes standard with a 10-speed automatic transmission across all engine offerings.
With six engine options, F-150 offers customers the choice to create their own optimal balance of power, capability, fuel economy and affordability. In addition to the 3.5-litre PowerBoost V6 full hybrid, available engines include the 3.3-litre Ti-VCT V6, 2.7-litre EcoBoost V6, 5.0-litre V8, 3.5-litre EcoBoost V6 and 3.0-litre Power Stroke® diesel V6.
The all-new 2021 Ford F-150 ships to dealer showrooms nationwide this week, just as it earns a seventh consecutive Kelley Blue Book Best Buy award. The F-150 is assembled in America at Dearborn Truck Plant in Dearborn, Michigan, and Kansas City Assembly Plant in Claycomo, Missouri.
*Range calculation based on 115 litre tank and -estimated rating of 9.5 L 100 km combined based on the Government of Canada approved test methods. Actual range will vary.
**Range calculation based on 115 litre tank and-estimated rating of 9.8 L 100 km combined. based on the Government of Canada approved test methods. Actual range will vary.
ƗHorsepower, torque, payload, towing and estimated fuel economy ratings are independent attributes and may not be achieved simultaneously.
Tuesday, December 22nd, 2020
DEARBORN, Mich., Dec. 16, 2020 – Edmunds has named the Ford Mustang Mach-E and Ford F-150 as Edmunds Top Rated Luxury EV and Edmunds Top Rated Truck of 2021, respectively.
Edmunds Editor-in-Chief Alistair Weaver praised Mustang Mach-E for its attention to luxury interior details while boasting the performance inherent to the Mustang name.
"The Mach-E has a lot in common with similarly priced EVs, but it's the vehicle's attention to detail that makes it stand out," said Alistair Weaver, editor-in-chief at Edmunds. "The luxury component truly comes from its upscale interior materials and attractive central touchscreen. It also combines driving fun worthy of the Mustang name with an EPA-estimated range of 270 miles1 and 346 horsepower2 [Premium with extended-range battery and electric all-wheel drive]. The Ford Mustang Mach-E offers guilt-free performance and pleasing luxury at an attainable price, and that's why it's our pick this year for Edmunds Top Rated Luxury EV."
Weaver said on top of several impressive attributes, F-150 stood out in its class because of the extensive options it offers for truck customers looking for a tailor-made pickup.
"The Ford F-150 has numerous bragging rights with impressive towing, max payload and with an EPA-estimated rating of 25 mpg city/26 mpg highway/25 mpg combined3," Weaver said. "But we believe its true strength rests in the extensive and varied options that allow shoppers to get a truck tailored to their needs. With the F-150, Ford displays a clear understanding of the changing needs and wants of truck customers, and for that and many other reasons, it deserves the title of Edmunds Top Rated Truck this year."
More about the 2021 Edmunds Top Rated Awards
Edmunds Top Rated Award winners are selected by the Edmunds editorial team based on their informed opinion gathered during their vehicle testing and ranking process. Edmunds' editors selected the overall winners from a group of finalists that consisted of each of the highest-ranked eligible new vehicles as of Dec. 15 in their vehicle classes assigned by Edmunds. Eligible vehicles must have undergone the full Edmunds testing process by Dec.15 and be available for sale as new on Jan. 1.
Vehicles are rated and ranked based on driving, comfort, interior, tech, storage, fuel economy/range and efficiency, value/build quality as well as attributes unique to that vehicle.
# # #
1Based on full charge. Actual range varies with conditions such as external elements, driving behaviors, vehicle maintenance, lithium ion battery age and state of health.
2Calculated via peak performance of the electric motor(s) at peak battery power.
3PowerBoost 4×2. Actual mileage will vary.
Tuesday, November 3rd, 2020
Coming first to 2021 F-150 and the all-electric Mustang Mach-E as part of available Ford Co-Pilot360™ Technology, Active Drive Assist allows for hands-free driving on prequalified sections of divided highways called Hands-Free Zones that make up over 100,000 miles of North American roads
Ford developed available Active Drive Assist based on advanced computing of camera and radar sensing technologies to provide real-time hands-free driving opportunities and enable the addition of more such zones in the future
Ford is advancing the technology with state-of-the-art innovations and promoting its more mainstream adoption by making it standard or a relatively affordable option for certain F-150 pickups and Mustang Mach-E all-electric SUVs; expected first year sales of 100,000 vehicles with the technology hardware
The technology will become available in the third quarter of 2021 via Over-the-Air Update, demonstrating Ford's bumper-to-bumper OTA capability for complex innovations to help improve vehicles over time and keep customers at the forefront of technology
DEARBORN, Mich., Oct. 30, 2020 – Henry Ford helped millions of people lay hands on their first automobiles beginning more than 117 years ago. Today, his company is helping many more people take their hands off steering wheels by applying the same approach to democratizing technology to Ford's state-of-the-art Active Drive Assist hands-free driver assist innovation.
Ford developed Active Drive Assist based on advanced computing of camera and radar sensing technologies to provide real-time hands-free driving opportunities. The technology also enables expanded hands-free driving zones in the future based on system and customer patterns.
The advanced new driver assist feature will arrive first on 2021 F-150 and 2021 Mustang Mach-E, included as standard on certain models or as relatively affordable option on others, with both vehicles becoming available to customers in late 2020. Ford expects to sell more than 100,000 F-150 and Mustang Mach-E equipped with Active Drive Assist technology hardware in their first year of alone based on company sales and take-rate projections.
"As breakthroughs in new technology allow us to help reduce the stress of long highway drives, it's important to make sure these capabilities can be enjoyed by the largest spread of people possible," said Hau Thai-Tang, chief product platform and operations officer, Ford Motor Company. "Active Drive Assist can help improve the driving experience while ensuring people remain aware and fully in control, all for a price unmatched by our competitors – a commitment to affordable innovations that has driven us since Henry Ford put the world on wheels."
High tech priced right
When Active Drive Assist is not equipped as standard, it will be priced competitively, including:
For F-150, Active Drive Assist will be available as a part of the Ford Co-Pilot 360 Active 2.0 package for $1,595. The Ford Co-Pilot 360 Active 2.0 package is standard on F-150 Limited and available as an option on Lariat, King Ranch and Platinum models.
For Mustang Mach-E, it will come standard on CA Route 1, Premium and First Edition variants. It's an available package on the Select trim for $3,200 as part of the larger Comfort and Technology package, which includes features such as a 360-degree camera, heated front seats and heated steering wheel.
For customers purchasing F-150 and Mustang Mach-E at this year's launch, the hardware enabling Active Drive Assist – including forward-facing camera and radar sensors – will be available through the Ford Co-Pilot360 Active 2.0 Prep Package, while customers choosing to purchase the software for $600 will receive it through an Over-the-Air Update in the third quarter of next year.
Over-the-Air Updates are quick and easy wireless upgrades that can help enhance quality, capability and improve the ownership experience over time while reducing dealer trips. This will be an early demonstration of the Ford system's bumper-to-bumper update capability to wirelessly update nearly all vehicle computer models, enabling the addition of this type of complex innovations that require software upgrades to vehicle functions.
For example, early F-150 customers can purchase the prep package that includes the Active Drive Assist hardware and Active Park Assist 2.0 even more affordably for $895, which includes a $100 early adopter incentive. When Active Drive Assist is ready to launch with software updates, customers will then be able to purchase the software – plus a three-year service period – for $600 and receive it via Over-the-Air Update.
In the second half of 2021, new customers will be able to purchase the hardware and software together in the Ford Co-Pilot Active 2.0 package, without the need for an Over-the-Air Update to initiate the feature.
By offering innovative new technology on its most popular, mainstream nameplates, Ford expects to quickly expand the number of vehicles on the road equipped with hands-free driving technology based on company sales projections. This includes a high percentage of Mustang Mach-E vehicles that are expected to be equipped with the technology.
Ford plans to continue adding mapped areas to Active Drive Assist in the future, enabling hands-free driving on even more roads and highways. After a three-year service period, customers can choose to purchase this competitively priced connected service to continue enjoying Active Drive Assist and receive new improvements via Over-the-Air Update.
How it works
Available Active Drive Assist builds upon available Intelligent Adaptive Cruise Control with Stop-and-Go Lane Centering and Speed Sign Recognition. It allows you to operate your vehicle hands-free while the driver is monitored by a driver-facing camera to make sure you're keeping your eyes on the road, with the potential for more enhancements in the future. This feature is available on prequalified sections of divided highways called Hands-Free Zones that make up over 100,000 miles of North American roads.
An advanced driver-facing camera will track eye gaze and head position to ensure drivers are paying attention to the road while in Hands-Free Mode as well as when they're using hands-on Lane Centering Mode, which works on any road with lane lines. Drivers will be notified by visual prompts on their instrument cluster when they need to return their attention to the road or resume control of the vehicle.
As part of the available Ford Co-Pilot360 Active 2.0 package, customers will also receive Active Park Assist 2.0, the latest iteration of park-assist technologies to give drivers some peace of mind when parking their F-150 or Mustang Mach-E. With Active Park Assist 2.0, simply holding a button will allow the vehicle to take control of parking in parallel and perpendicular spaces with ease. It also offers Park Out Assist with side-sensing capability so drivers can confidently navigate out of a parking spot when someone's parked too close.
*Active Drive Assist is a hands-free highway driving feature. The Active Drive Assist Prep Kit contains the hardware required for this feature. Software for the feature will be available for purchase at a later date.
*Active Drive Assist functionality expected 3rd quarter 2021CY. Separate payment for feature software required to activate full functionality at that time.