Posts Tagged 'car'
Thursday, August 20th, 2020
Ford and INRIX are teaming up to help customers find cheaper options for fuel prices and that elusive open parking spot
These services will be available in Ford vehicles globally equipped with SYNC 4, starting with the all-new Mustang Mach-E, Bronco two- and four-door models, and F-150
INRIX enables Ford drivers to find, compare and drive to parking all from the SYNC screen, with real-time parking service in nearly 20,000 cities in 150 countries
DEARBORN, Mich., Aug. 20, 2020 – As people around the world start driving more again, Ford and INRIX will soon help them find cheaper options for fuel prices and that elusive open parking spot.
INRIX, Inc., a leading provider of connected car services and transportation analytics, today announced that its parking and fuel services will be soon available in Ford vehicles around the world. Available in the all new SYNC 4 connected vehicle system with navigation, drivers will be able to easily find, compare and navigate to available parking spaces, as well as search for the lowest fuel prices and drive to stations nearby.
Starting with the all-electric Mustang Mach-E, Bronco two- and four-door models and all-new F-150, new SYNC 4 real-time connectivity ensures drivers have the latest available traffic, incident, parking, charging and fuel information. SYNC 4 technology also combines conversational voice recognition with internet search, so drivers and passengers always have access to the latest information – from the closest parking spot to the cheapest gas station nearby.
"Customers want connected vehicle technologies to work more like smartphones with real-time, personalized services – and that is exactly what SYNC 4 offers, including INRIX's parking and fuel price innovations," said Gary Jablonski, manager, Ford Connected Vehicle Infotainment Systems. "For example, many F-150 customers drive from job to job in new areas where we can help guide them to gas stations and parking spots closest to them, or perhaps a bit further if they are looking for cheaper options."
INRIX launched the industry's first dynamic off-street parking service in 2013, followed by the first integrated on-street parking solution in June 2015. SYNC 4 will soon provide users with routes to the closest street and garage spot, including rates, restrictions and real-time occupancy. INRIX Parking offers access to the world's most comprehensive and accurate parking database in 150 countries.
"Since 2008, INRIX has played an important role bringing connected services to Ford SYNC drivers," said Bryan Mistele, president and CEO of INRIX. "These services are no longer just a selling point but a requirement – real-time information like traffic, parking and fuel play a critical role in the entire driving experience."
INRIX Fuel allows drivers to search for nearby stations and view dynamic pricing to find their preferred fuel at the lowest price. OPIS by IHS Markit powers the service, providing location, brand and real-time pricing information for more than 380,000 fuel stations around the world.
INRIX collects billions of anonymous data points every day from a diverse set of sources, including connected vehicles, cities, DOTs, road weather conditions, journalistic incidents, social media, parking, mobile and other IoT devices. With the ability to offer transportation services on every road in the world, INRIX is a leading provider of mobility intelligence for automakers, transit agencies and businesses.
Friday, November 1st, 2019
The next generation for the Ford Escape is here. We take a look at our five favourite things about the 2020 vehicle.
1. Keep your head up kid! 
For the first time in North America a FORD vehicle has Heads-up Display (HUD). The six inch display will be an option on the Titanium trim level. The display will show plenty of driver assist features while allowing you to keep your eyes on the road. 
2.  A lot of second row leg space… like a lot
The second row of the 2020 Escape features more legroom than ever before. The back of the front seats having a sleek knee cut out design which has helped the vehicle achieve around 38.8 inches of legroom. The second row's comfort doesn't stop at leg space because the new Escape allows you to also recline.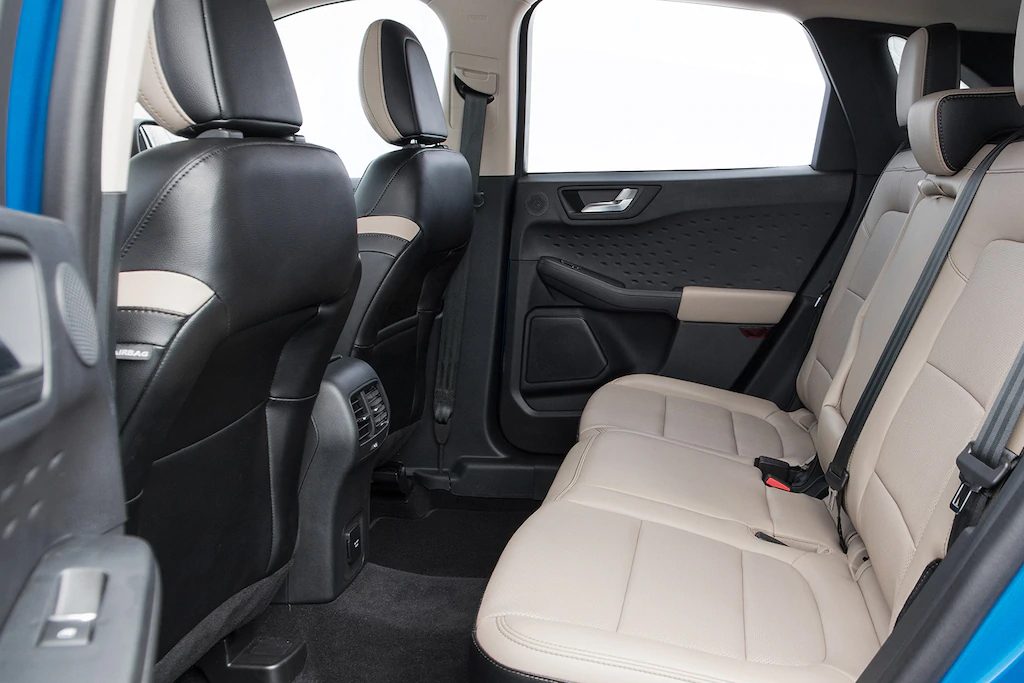 3. 
Cha Cha Sliding bench
The second row bench sits at a 60/40 split and allows each section to be slid individually. Whether you use the slide for comfort or to extend the cargo capacity from 34 cubic feet to 38 cubic feet is your choice and we know how important choices are. 
4. Safety standards? More like safety standard…
Safety is important from the driveway to the highway and this is why the 2020 Escape will have Ford Co-Pilot Technology standard in all trim levels. The bundle of driver-assist features includes Blind Spot Information System (BLIS®) with cross-traffic alert, Pre-Collision Assist with Automatic Emergency Braking, Auto High-Beam Headlamps, Lane-Keeping System and Rear View Camera.
5. Guess Who's back
Technically this isn't new but we have not seen an Escape Hybrid since 2012 which is our official unofficial time frame to be considered new again. The vehicle has a 2.5 L engine and 88 kW electric engine. Ford expects the Plug-in version of their new hybrid to be out in the Spring of 2020. 
The 2020 Escape is already available at Ken Knapp Ford in Essex. Take a look at what we have in stock here!