Posts Tagged 'Ford Bronco'
Wednesday, July 15th, 2020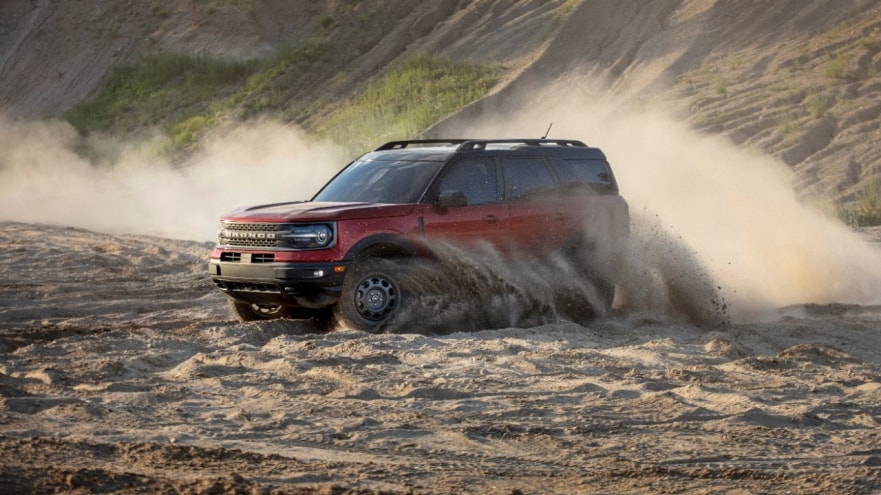 The Bronco of small SUVs: All-new Ford Bronco Sport expands the rugged Bronco family of 4×4-only vehicles, giving more outdoor adventurers Bronco off-road capability, durability and technology
Built Wild: With standard 4×4 across the model lineup, Bronco Sport lives up to its G.O.A.T. (goes over any type of terrain) heritage with Built Wild Extreme Durability Testing, Capability and Innovative Design principles delivering unsurpassed ground clearance, made-for-the-trails approach and departure angles, water fording and obstacle protection and segment-first trail technologies
Thrilling: Bronco Sport SUV enables exciting, high-speed off-road driving thanks to its Bronco-specific variant architecture, unmistakable Bronco design DNA, available 2.0-litre EcoBoost® engine delivering segment-best horsepower and torque, and available advanced 4×4 system with class-exclusive twin-clutch rear-drive unit featuring a differential lock feature to head into the wild
Ready for fun: Class-exclusive features designed for life on the trails include safari-style roof enabling class-leading headroom, as well as a cargo area high enough to hold two 27.5-inch-wheel mountain bikes; more than 100 factory-backed accessories are available to transport gear such as kayaks, surfboards, skis and camping gear
Reservations: Open now for $100 CDN at www.ford.ca/bronco
DEARBORN, Mich., July 13, 2020 – The all-new Bronco Sport off-road vehicle – the Bronco of small SUVs – signals for adventure-seekers a welcome return to roads and trails less traveled.
With unmistakable Bronco styling and unrelenting Bronco capability, the smaller sibling of Bronco two-door and first-ever four-door SUVs joins the family with its own idea of fun. As with all Broncos, 4×4 is standard, and this rugged SUV is engineered to handle whatever weekend adventure its owner has in mind.
"Bronco Sport has the toughness and smarts to help turn off-road novices into 4×4 pros," said Hau Thai-Tang, Ford chief product development and purchasing officer. "Bronco Sport embraces the needs of outdoor enthusiasts – every inch of it was designed and engineered with weekend adventurers in mind."
Bronco Sport is smartly designed to transport two mountain bikes standing up in its cargo area – and two cyclists up front. With more than 100 factory-backed standalone accessories owners easily make the vehicle their own by outfitting it to transport kayaks, skis, camping equipment or whatever gear propels their adventure.
Four trim levels are available, including the Base model, Big Bend™, Outer Banks™, Badlands™.
Reservations for Bronco Sport open today at www.ford.ca/bronco; vehicles can be reserved for $100 CDN. Vehicles arrive in dealerships late this year.
Built Wild 4×4 confidence
Like the larger Bronco, Bronco Sport delivers the 4×4 off-road capability that made the original Bronco a legend. With off-road performance at its core, Bronco Sport provides solid footing on sand, snow, mud, rocks and more.
For maximum off-road capability, the Bronco Sport was tested in extreme conditions in places such as the Johnson Valley desert in California, as part of Built Wild Extreme Durability Testing. Badlands model packs an advanced 4×4 system with class-exclusive twin-clutch rear-drive unit with a differential lock feature to allow greater off-road performance – similar to a traditional mechanical locking differential. The system can divert virtually all rear axle torque to either wheel, setting it apart from any other vehicle in the non-premium subcompact utility segment.
Bronco Sport's suspension can take on rugged terrain and is complemented by Ford's advanced trail technologies. The small SUV's Terrain Management System™ with up to seven available G.O.A.T. Modes™ helps drivers "go over any type of terrain" and in various conditions. Standard modes include Normal, Eco, Sport, Slippery and Sand; Mud/Ruts and Rock Crawl modes are available on the Badlands series.
All models feature an independent front and rear suspension engineered and performance-tested in demanding environments across North America. The suspension is optimized to help drivers confidently maintain vehicle composure while aggressively taking on rugged terrain.
On Badlands models, the system includes uniquely tuned front struts with hydraulic rebound stops designed to provide a quieter, less jarring off-road experience. In addition, 46-millimeter-diameter monotube rear shocks are among the largest in the class, helping provide improved response and more comfort off-road, while softer springs and antiroll bars offer greater articulation over obstacles.
Class-exclusive Trail Control™ technology furthers the vehicle's off-road prowess. The available feature enables a cruise control-like setting up to 20 mph forward and 6 mph in reverse for vehicle-controlled throttle and braking, letting the driver stay focused on navigating the trail.
For adventurers taking on rough and rocky trails, the small SUV's design includes made-for-the-trails departure, approach and breakover angles. An available class-exclusive front off-road camera with lens washer serves as a spotter and helps provide better visibility of the terrain ahead, displaying the video on the centre stack-mounted touch screen.
In Rock Crawl mode, the electronic power steering assist system is uniquely calibrated to provide more precise control and help reduce steering wheel disturbance during low-speed maneuvers over rocky terrain.
Off-road capability is further reinforced by four steel bash plates, plus available frame-mounted front tow hooks that can individually withstand static loads up to 100 per cent of the vehicle's gross vehicle weight. Bronco Sport Badlands models can wade through up to 23.6 inches of water.
Thrilling performance born of Bronco DNA
Staying true to the DNA of the first-generation Bronco, the all-new Bronco Sport SUV pays it forward with modern, heritage-inspired style, agile off-road architecture and optimized suspension for better control in all environments.
The Badlands series is powered by a 2.0-litre EcoBoost® engine that produces a targeted best-in-class 245 horsepower and 275 lb.-ft. of torque for high-speed off-road performance*. Base, Big Bend and Outer Banks models feature the proven 1.5-litre EcoBoost engine with a targeted 181 horsepower and 190 lb.-ft. of torque*.
Both engines are paired with an 8-speed automatic transmission, while Bronco Sport Badlands adds SelectShift™ with steering wheel-mounted paddle shifters to help drivers maximize control both on- and off-road. A cooling system with additional transmission and rear-drive coolers keeps 2.0-litre models running strong over tough terrain.
The Bronco Sport SUV's design inspiration is directly linked to the all-new Bronco halo model. Its rugged design attributes include signature Bronco-inspired encapsulated cartridge grille, round headlamps, clean, flat bodysides, and timeless proportions that enable the short front and rear overhangs required for off-road maneuvers. Tough unpainted finishes smartly cover exterior contact points, so the vehicle is ready for almost anything the rough and tumble outdoors can throw at it.
Badlands models come standard with 28.5-inch-diameter all-terrain tires; 29-inch all-terrain off-road tires with more aggressive, deeper treads that stretch on to the sidewalls to help improve off-road traction are available.
Ready for fun to venture into the wild
Human-centred design led to special Bronco Sport features such as class-exclusive liftgate LED floodlamps – because out in the wild, there are no streetlamps – MOLLE straps to carry extra gear and zippered seatback pockets for additional stowage.
Its upright design and safari-style roof contribute to Bronco Sport's adventurous silhouette, which not only delivers a long flat roof rail for maximum carrying length, it also treats occupants to best-in-class first- and second-row headroom. The cargo area has enough height to accommodate two 27.5-inch-wheel mountain bikes standing with the available Yakima dealer-installed interior bike rack accessory.
Bronco Sport will launch with more than 100 factory-backed accessories for maximum personalization, enabling dealers to provide outfitting-on-demand for each owner's individual adventure needs.
A flip-glass rear window, low-load floor cargo area, overlanding-ready roof rack with capacity to make roof-top tent camping easy, and front fender peaks that allow the driver to see the corners of the vehicle easily from behind the wheel reveal this small SUV is purpose-built for adventure from front to back, top to bottom.
Bronco Sport can quickly help with basecamp setup thanks to its available innovative slide-out working table, part of the five-way configurable available Cargo Management System, plus a class-exclusive 400-watt inverter and liftgate floodlamps that illuminate up to 129 square feet for when the adventure ends after sundown.
To make post-adventure cleanups painless, the Badlands series offers washable rubber flooring throughout the cabin and cargo area, easy-to-clean cloth seating surfaces and silicone-sealed control switches. For stowage of wet, icy or muddy gear, an available storage bin is located below the second-row passenger side seat.
Smart in addition to being rugged, the vehicle features a SYNC® 3 system with an 8-inch touch screen and compatibility with Apple CarPlay® and Android Auto™. Other available technology features include SiriusXM™ satellite radio.
The Ford Co-Pilot360™ suite of advanced driver-assist technologies is standard across the lineup, including Pre-Collision Assist with Automatic Emergency Braking which includes Pedestrian Detection, Forward Collision Warning, Dynamic Brake Support; Blind Spot Information System with Cross-Traffic Alert; Lane-Keeping System, Auto-High Beam Headlamps and a rearview camera with washer. Available Ford Co-Pilot360 Assist+ technology includes Adaptive Cruise Control with Stop-and-Go and Lane-Centering, Evasive Steering Assist and voice-activated touch screen navigation. Available Ford Co-Pilot360 Assist 2.0 technology adds Intelligent Adaptive Cruise Control with Stop-and-Go, Lane-Centering and Speed Sign Recognition.
Tuesday, November 5th, 2019
Hinting at upcoming Bronco production model, Ford's Bronco R race prototype debuts in the desert to celebrate 50th anniversary of Rod Hall's historic Baja 1000 win, an overall victory in a 4×4 that's never been duplicated in 50 years
It was built for this, its engine roaring through the heat of the Mojave and its racing tires spraying desert sand. As the last grain settled, the vehicle that is all at once a tribute and a test and a tease, came in to focus. It was no mirage. Bronco – in the form of a race-inspired Bronco R prototype – is back.
As a tribute, it was appropriately parked alongside the Bronco that Rod Hall and Larry Minor famously drove to an overall win 50 years ago at the 1969 Baja 1000 – a victory that no other 4×4 has replicated. Featuring a race livery inspired by Hall's winning vehicle, Bronco R passes the torch to off-road racer Shelby Hall, Rod's granddaughter, who will drive it for portions of this year's prestigious race in honour of her late grandfather.
As a test, the Bronco R will head back to the Baja Peninsula later this month to take on the near 1,000-mile grueling off-road course and challenge the production Bronco's powertrain and architecture.
And as a tease, the Bronco R – developed by Ford Performance in collaboration with builder Geiser Bros Design and Development and Baja 1000 Trophy Truck champion Cameron Steele – drops heritage-inspired design and proportion hints of what enthusiasts can expect to see when the future Bronco makes its world premiere next spring
"Bronco's win at Baja in 1969 was epic, something that even after 50 years has not been repeated," said Hau Thai-Tang, Ford chief product development and purchasing officer. "Rugged endurance racing is such a big part of Bronco heritage. The Baja 1000 gives us not only the perfect setting to honour Rod Hall's win, it also provides an authentic test bed to demonstrate our upcoming Bronco's desert racing capability and durability."
Iconic Bronco design at first sight
Hidden behind an innocuous security door in a Ford studio basement, a small team led by Paul Wraith, Bronco chief designer, worked since July to make the race prototype unmistakably Bronco at first sight. The team worked in secret to create a one-off build that hints at the all-new Bronco to come, while paying homage to the first-generation Bronco's styling and proportions that made the nameplate an instant off-road icon a half-century ago.
The team focused on creating a race-ready look with an overall heritage-inspired design language. With its compressed body height and long-travel suspension, Bronco R features an ultra-wide stance, while a variety of aero components reinforce its performance intent. The prototype's lightweight composite body includes a clamshell hood and roof, as well as clean body panels that harken back to the first-generation Bronco models (1966 – 1977). A cut-roof design allows rear seat passengers to use a second-row hatch for access.
The exterior incorporates 15 LED light bars from Rigid, including a grille sequence framing the new BRONCO brand lettering boldly. To underscore that this is a one-of-a-kind racing prototype, the "R" is given a sharp graphic treatment. Washers inscribed with the Bronco name are visible at various points around the exterior and secure the composite skin to the roll cage beneath it.
A unique race-focused interior features lightweight off-road racing shells from Recaro for all three seating positions. Simple surfaces of the instrument panel nod to the first-generation Bronco, and the integration of a MoTeC data acquisition system enables real-time monitoring and measurement of the prototype's performance attributes.
With its exterior inspired by the winning 1969 Baja 1000 Bronco livery, the Ford Performance Bronco R race prototype pays tribute with its red, white and black colours accented by its blue space frame. No. "2069" stretches across its rear quarter-panel and wing – "20" to signal the class in which it will race and "69" in honour of the year in which Hall and Minor roared to an overall victory in the Mexican 1000 (now SCORE-International Baja 1000).
"My grandfather was so proud of the 1969 Baja race and of his Bronco," said Shelby Hall. "More than just the memory of winning Baja, he loved that Bronco. I have no doubt he would be blown away by the Bronco R race prototype."
Sketch to race prototype in six months
To mark the 50th anniversary of Bronco's Baja 1000 win, Wraith and team worked in concert with Ford Performance, builder Geiser Bros Design and Development of Phoenix, Arizona, and Baja 1000 Trophy Truck champion Cameron Steele to make the Nov. 22 race start. They used cutting-edge tools such as high-tech virtual reality, polygon modeling and 3D printing to develop parts, but also incorporated low-fidelity prototyping and role-playing to aid problem-solving and swift decision-making.
"This wasn't our usual development process, but it was the right process for this project," said Wraith. "We found, created or adapted the right tool for the task at hand – a cool and exciting blend of old and new creative techniques. We stretched ourselves, but it was worth it – and great fun."
More than a celebration of Hall's 1969 win, the Bronco R race prototype is designed with the production model's body-on-frame architecture to test its capability and durability, while also energizing off-road enthusiasts who eagerly await the return of America's original sport utility vehicle.
The race prototype is built on a modified Ford T6 architecture that will provide the base for the production model. Beefed up for Baja, Bronco R features an independent front suspension with 14 inches of travel and a production-based five-link rear chassis design with up to 18 inches of travel, plus custom Fox shocks, 17-inch beadlock-capable aluminum wheels and 37-inch BFGoodrich tires.
"Like the original Bronco, we kept Bronco R's design authentic and simple, with a roll cage on a production-style frame, and a five-piece lightweight body on top," said Brian Novak, Ford Performance off-road racing supervisor. "For the endurance needs of Baja's 1,000 grueling miles, we built in a limited number of race-focused parts. But even the twin turbos of the EcoBoost® engine are representative of what the production Bronco will offer."
For the vehicle that was, and the vehicle that will be – it's the vehicle that is. The Bronco R race prototype is no mirage. The sand is flying again, and the heat is on. It was built for this.