Posts Tagged 'Ford Mustang'
Wednesday, November 6th, 2019
Built in collaboration between Ford and Webasto, Mustang Lithium project vehicle generates more than 1000 ft.-lbs. of instant torque and more than 900 horsepower for new levels of performance and technology with its 800-volt Webasto battery system with EVDrive technology
Best of both worlds, Mustang Lithium accelerates the next generation of performance: unique 6-speed manual shifting, track handling and stunning quarter-mile acceleration with instant electric torque, and zero emissions
Ford is investing more than $11.5 billion in electrified vehicles by 2022, including an all-new Mustang-inspired fully electric SUV in 2020 with targeted range of 300 miles and an all-electric F-150 in a few years, a hybrid version of the best-selling F-150 pickup available in 2020 will join all-new Ford Escape and Explorer hybrids launched this year
LAS VEGAS, Nev., Nov. 05, 2019 – Ford and Webasto today reveal Mustang Lithium, an ultra-high-performance battery electric Mustang fastback prototype. With more than 1,000 ft.-lbs. of torque and more than 900 horsepower instantaneously available, this Mustang amps muscle car performance to a new level and helps gauge the level of interest the next wave of performance customers have in lightning-quick performance that only fully electric powertrains can deliver.
The Mustang Lithium build is not only a one-off prototype to showcase electrification on the world's best-selling sports car but also a testbed for battery and thermal management technologies Webasto and Ford are creating for the growing e-mobility automotive segment.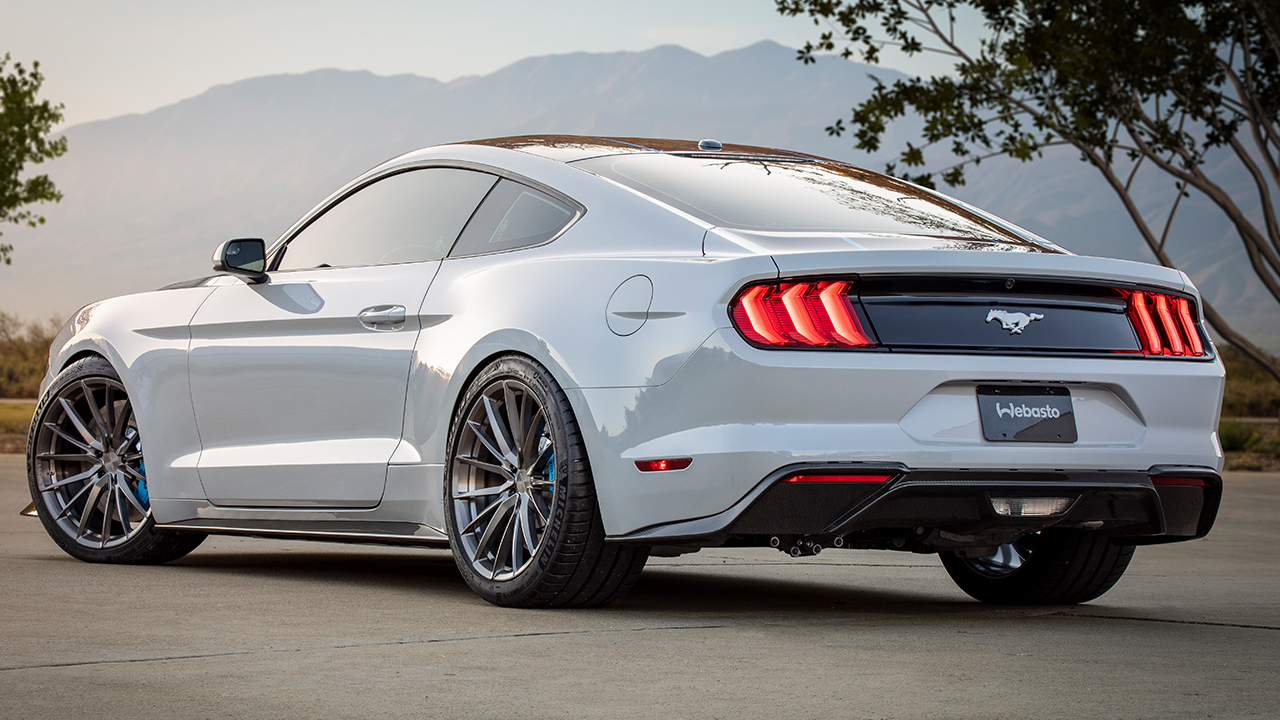 "Ford has made no secret of the fact that we are electrifying our most popular nameplates," said Hau Thai-Tang, Ford's Chief Product Development and Purchasing Officer. "This one-off Mustang prototype is a great opportunity for us, together with Webasto, to showcase to our customers what a new electrified powertrains can do for performance in a car they already know and love."
An electrified street-ready beast, Mustang Lithium is low and sleek, with custom carbon fiber body components, a 1.0-inch lowered stance and 20-inch staggered fitting forged wheels. Under the hood, the differences are electrifying: a Phi-Power dual-core electric motor and dual power inverters – all powered by an 800-volt Webasto battery system with EVDrive Technology that can discharge a mega-watt of electrical energy.
At 800 volts, that's twice the voltage of most electric cars on the road today. This allows the system to be lighter, more powerful and generate less heat, and more electric force than most battery-electric systems on the road today.
In a unique twist, Mustang Lithium features a manual transmission and uses a drag-strip proven Calimer-version of the Getrag MT82 6-speed transmission with billet internals to handle the 1,000 ft.-lbs. of torque. Ford Performance half shafts and Super 8.8 Torsen® differential help supply power to the road via lightweight Forgeline wheels wearing Michelin® Pilot® Sport 4S tires.
Additional features include Ford Performance's Track Handling Pack and strut tower brace, Brembo six-piston front brakes from the Shelby GT350R, Sankuer Composite Technologies side splitters and rear diffuser, plus Webasto hood with see-through polycarbonate windows, TurboDX charging solution and TurboCord portable charger.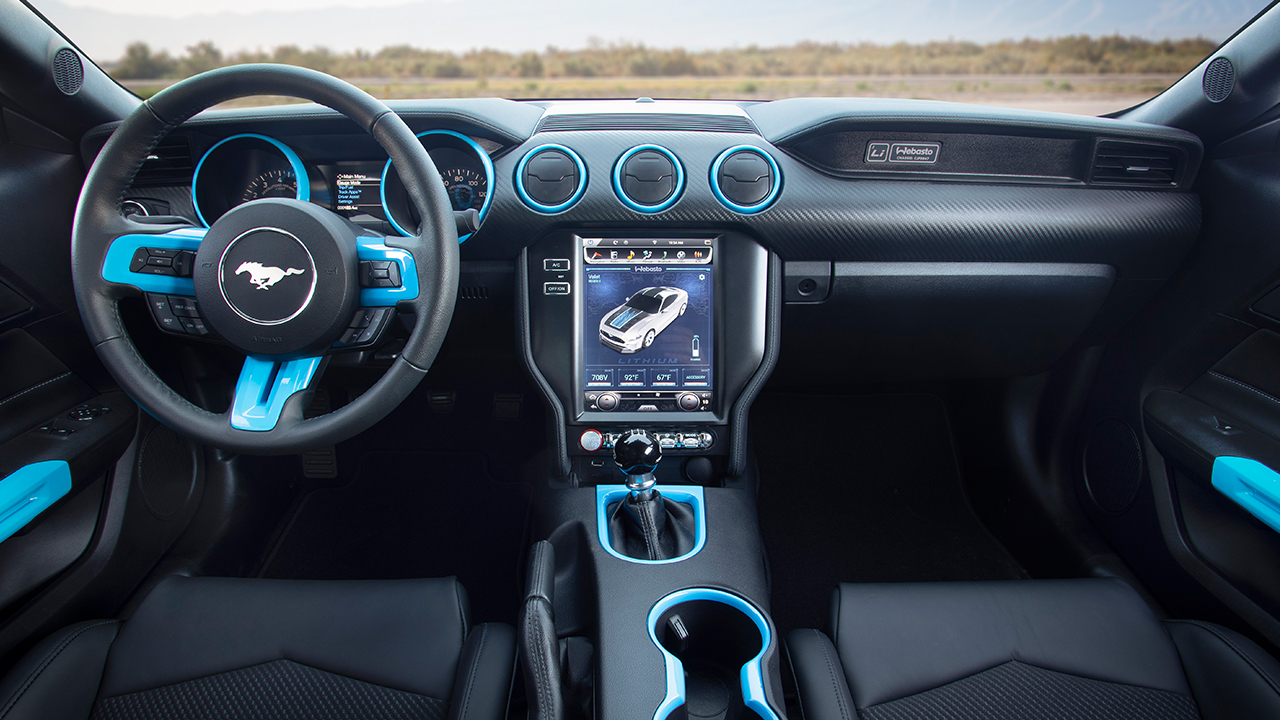 Mustang Lithium features a unique set of drive modes that apply a controlled amount of torque for different driving scenarios including: Valet, Sport, Track and Beast, and are instantly available on demand via a custom in-dash 10.4-inch touchscreen display.
"Very similar to Ford's push for vehicle electrification, this is an innovative way to further the technologies we're developing to enable vehicle electrification while creating a vision of how cool the future of electric performance will be," said Mark Denny, Webasto Customized Solutions North America President and CEO.
Electric drive is essential to the future of Ford
For more than 20 years, Ford has brought electric and hybrid-electric vehicles to the masses and has produced more than 800,000 around the globe.
Ford is investing more than $11.5 billion in electrified vehicles by 2022, including an all-new Mustang-inspired fully electric SUV in 2020 with range of 300 miles and an all-electric F-150 in a few years.
As Ford actively refreshes its lineup, the all-new 2020 Ford Explorer and Escape hybrid SUVs feature the company's fourth-generation lithium-ion battery technology, similar to the energy storage system used on the Mustang Lithium. An F-150 Hybrid also arrives next year. More than the instantaneous torque of these electric drive powertrains provide, greater levels of torque management and driver control can be enabled, plus zero emissions.
DEARBORN, Mich., July 16, 2019 – Ford and Roush Performance today unveil the 2019 "Old Crow" Mustang GT, a charity collaboration project which pays homage to World War II triple ace pilot Colonel Bud Anderson of the U.S. Army Air Force and the legendary P-51 Mustang fighter planes he flew in combat – nicknamed "Old Crow."
This one-of-one Mustang will be auctioned at the Experimental Aircraft Association's 2019 AirVenture air show on July 25 in Oshkosh, Wisconsin. All proceeds will be donated to support EAA's youth and adult aviation programs, many of which help prepare the next generation of America's great pilots.
Performance in the "Old Crow" Mustang GT comes by way of a Ford and Roush Performance TVS R2650 supercharger, which boosts the 5.0-liter V8 engine to 710 horsepower and 610 lb.-ft. of torque. Other performance upgrades include a Roush Performance cold air induction system and X pipe, plus a custom active exhaust system from Ford Performance.
Exterior enhancements include Roush rear fascia aerofoils, Ford Performance front racing spoiler, 2020 Mustang Shelby® GT500® rear spoiler, custom heat extractors on the hood and blue rainbow tinted exhaust tips that emulate the exhaust on the P-51 Mustang planes.
Inside the cabin, a fully custom, aircraft-inspired interior features unique military-themed green leather and canvas and red shifter nob and door handles. "P-51" is written on the passenger-side dashboard. The vehicle includes Sparco four-point harness as well as aluminum rear seat-delete.
"Heroes like Col. Bud Anderson have become true living legends in the 75 years since the Allied invasion of Normandy," said Craig Metros, Ford design director. "Ford is proud to team up with Roush Performance to honor Col. Anderson and all of the brave servicemen and servicewomen who risked their lives during World War II, all while raising funds for the Experimental Aircraft Association, which helps make flying more accessible to America's youth."
Col. Anderson achieved more than 16 aerial victories in Europe during World War II. He flew 116 combat missions, including a six-hour mission on D-Day. He was never struck by enemy fire or forced to withdraw from an aerial engagement during his career. Col. Anderson's service earned him more than 25 decorations including the Distinguished Flying Cross, Bronze Star and Air Medal.
Roush Enterprises founder and aviation enthusiast Jack Roush, Sr. honored Col. Anderson in 1994 by fully re-creating an authentic P-51 Mustang aircraft with the same badging and paint scheme as the Anderson's "Old Crow" Mustang plane.
"It is truly special to have the opportunity to honor a great American hero and a truly great friend of mine such as Col. Bud Anderson," said Roush, Sr.. "My father instilled in me a love of aviation and a deep respect for the brave pilots and airmen of World War II. Building this incredible 'Old Crow' Mustang, especially to support the next generation of America's pilots, has been a very rewarding opportunity and one that we're proud to share with the world."
EAA AirVenture attracts more than 600,000 aviation enthusiasts to Wittman Regional Airport in Oshkosh, Wisconsin every year. Ford has supported EAA AirVenture for 21 years, building and donating 11 custom-designed vehicles to help raise more than $3.5 million to date.
These include the 2018 Eagle Squadron Mustang, 2016 "Ole Yeller" Mustang and 2015 Mustang Apollo Edition. Ford's highest-selling vehicle auctioned at AirVenture is the 2008 Mustang AV8R, which sold for $500,000.
"Ford and Roush Performance are helping build the next generation of aviation through their support of EAA, AirVenture and The Gathering," said Jack J. Pelton, EAA CEO and Chairman of the Board. "This project not only will be a highlight of The Gathering; its impact will help EAA reach those who are pursuing their own dreams of flight."
Bidding at "The Gathering" auction is open to all interested parties. Bids can be made in person or remotely online.
2.3L High Performance Package provides entry-level Mustang buyers the first EcoBoost® engine powered by Ford Performance to deliver a projected 330 horsepower and 350 lb.-ft. of torque – the most powerful four-cylinder sports car offered by an American automaker
Poised to attack at autocross, 2.3L High Performance Package adds Mustang GT brakes and Mustang GT Performance Package aerodynamics and suspension components to make it the highest-performing production four-cylinder Mustang ever
Initially a passion project that began with a Focus RS engine swap, the High Performance Package became a green-lit production program to strengthen Mustang's entry-level performance offering in under 10 months – just in time for Mustang's 55th anniversary
Strengthening Ford's performance reach for 2020 and just in time for the pony car's 55th anniversary, the new 2.3L High Performance Package for the entry-level Mustang EcoBoost® creates the most powerful four-cylinder sports car offered by an American automaker. This is the result of a unique EcoBoost engine powered by Ford Performance and upgraded handling components from the Mustang GT Performance Package.
"The Ford Performance Focus RS 2.3-litre engine is a high-revving marvel, and anyone who's driven this EcoBoost engine instantly loves how quickly it responds and delivers power," said Carl Widmann, Mustang chief engineer. "When our team got the chance to try this specially built engine in a Mustang, we immediately agreed, 'We have to do this.'"
Reminiscent of development of the original Mustang in 1964, the car began as a five-person skunkworks project in the Ford Performance garage. Following an experiment with a Focus RS engine swap, the Mustang team leveraged Ford's quickening product development times to accelerate and complete the design-to-approval process for the 2.3L High Performance Package in under 10 months.
Available on the entry-level Mustang EcoBoost fastback coupe or convertible models this fall, the Mustang EcoBoost package was developed to feel at home both on thrilling mountain and coastal roads and even on the most precise autocross courses thanks to its Mustang GT brakes, performance tires, and chassis and aerodynamics hardware from the Mustang GT Performance Package.
MOST POWERFUL ENGINE YET IN A MUSTANG
To make their project a reality, members of the Mustang team traveled to Valencia, Spain, home of the Ford Performance-tuned 2.3-litre engine, to convince plant management to build a new variant of the turbocharged four-cylinder specifically for Mustang. Then, with the Ford Performance-designed engine as a starting point, they tuned the EcoBoost to more broadly and responsively deliver a projected 330 horsepower and 350 lb.-ft. of torque achieved with premium fuel (per the SAE J1349 standard).
Having secured production of the die-cast alloy block and high-performance cylinder head, the engineering team specified a 5 percent larger 63-millimetre twin-scroll turbo compressor and a larger radiator, then calibrated the engine to run both Ford's 10-speed SelectShift® automatic and 6-speed Getrag manual transmission.
The 2020 Mustang 2.3L High Performance Package is designed to run 0-60 in the mid-four-second range on premium fuel, with top speed increasing to 155 mph, a 10 mph gain over the 2019 EcoBoost Performance Package and 34 mph faster than the base EcoBoost Mustang.
"It's not just the horsepower gains over the standard 2.3-litre EcoBoost, it's the broader torque curve that delivers 90 percent of peak torque between 2,500 and 5,300 rpm, which is 40 percent wider than the base EcoBoost engine," said Widmann. "Plus, horsepower holds stronger up to the 6,500-rpm redline – enabling more usable power and torque for enthusiasts and weekend autocrossers to enjoy."
Helping to deliver 143 horsepower per litre, the new 2.3L High Performance Package includes a fully active quad-tip exhaust system with a signature tuned sound.
PACKED WITH ENTHUSIAST HARDWARE
The new 2020 2.3L High Performance Package feels sharp and nimble, with an aggressive road-holding stance, near-balanced 53/47 weight distribution and fully independent suspension, plus chassis and aerodynamic upgrades from the Mustang GT and its Performance Package.
For greater steering precision, the team added an alloy strut tower brace to stiffen the chassis at the front. To improve stopping power and fade resistance, the 2.3L High Performance Package adds larger four-piston fixed callipers with 13.9-inch front rotors from Mustang GT. It features a 32-millimetre sway bar up front and a tubular 21.7-millimetre bar at the rear.
New performance calibration tuning is applied to the electronic-controlled power steering, antilock braking, stability control and five driver-selectable drive modes. For improved cornering, a 3.55:1 limited-slip rear axle is included, plus package-specific 19×9-inch machined-face aluminum wheels and 255/40R summer tires.
For an aggressive look, the new EcoBoost 2.3L High Performance Package includes a large black front splitter and belly pan, plus brake cooling ramps from the Mustang GT Performance Package – add-ons that also work to reduce front-end lift and improve brake cooling. A blacked-out grille with offset Mustang tri-bar pony emblem, 2.3L High Performance Package side badges and magnetic gray side mirrors and raised blade rear spoiler add to the performance look, while a unique metallic gray stripe crosses the hood.
An engine-spun aluminum instrument panel with oil pressure and turbo boost gauges, plus a serialized dash plaque highlight the interior.
NEW ECOBOOST HANDLING PACKAGE
Increasing lateral acceleration grip and stopping power, the available EcoBoost Handling Package includes semi-metallic brakes, specially calibrated MagneRide® dampers and a TORSEN® 3.55:1 limited-slip rear axle. Wider 19×9.5-inch premium painted aluminum wheels with 265/40R Pirelli P Zero™ Corsa4 summer tires provide traction, while a 24-millimetre solid rear sway bar, up from 21.7 millimetres, improves handling balance.
The new EcoBoost Handling Package is available exclusively on the 2020 Mustang EcoBoost fastback coupe with the 2.3L High Performance Package with either 6-speed manual or 10-speed automatic transmission.
NEW SMART TECHNOLOGY, COLOURS, AND MORE
FordPass Connect™, now standard on Mustang for 2020, allows owners to interact with their vehicles via a smartphone. Using FordPass Connect's phone application, owners can locate their parked car, lock and unlock it, and check vehicle status, such as fuel, oil levels and maintenance alerts. For automatic transmission-equipped Mustang models, the system has a remote start feature. The availability of these features varies by market.
Available SYNC® 3 with AppLink™ adds enhanced voice recognition communications, 911 Assist and two smart-charging USB ports.
Four new Mustang colours for 2020 include Grabber Lime, Iconic Silver, Red Hot Metallic Tinted Clearcoat and Twister Orange. New 17-inch sparkle silver-painted aluminum wheels now come standard on the base 2020 Mustang EcoBoost.
The 2020 Ford Mustang with 2.3L High Performance Package arrives at dealerships this fall.