Posts Tagged 'Ford Performance'
Wednesday, November 6th, 2019
Built in collaboration between Ford and Webasto, Mustang Lithium project vehicle generates more than 1000 ft.-lbs. of instant torque and more than 900 horsepower for new levels of performance and technology with its 800-volt Webasto battery system with EVDrive technology
Best of both worlds, Mustang Lithium accelerates the next generation of performance: unique 6-speed manual shifting, track handling and stunning quarter-mile acceleration with instant electric torque, and zero emissions
Ford is investing more than $11.5 billion in electrified vehicles by 2022, including an all-new Mustang-inspired fully electric SUV in 2020 with targeted range of 300 miles and an all-electric F-150 in a few years, a hybrid version of the best-selling F-150 pickup available in 2020 will join all-new Ford Escape and Explorer hybrids launched this year
LAS VEGAS, Nev., Nov. 05, 2019 – Ford and Webasto today reveal Mustang Lithium, an ultra-high-performance battery electric Mustang fastback prototype. With more than 1,000 ft.-lbs. of torque and more than 900 horsepower instantaneously available, this Mustang amps muscle car performance to a new level and helps gauge the level of interest the next wave of performance customers have in lightning-quick performance that only fully electric powertrains can deliver.
The Mustang Lithium build is not only a one-off prototype to showcase electrification on the world's best-selling sports car but also a testbed for battery and thermal management technologies Webasto and Ford are creating for the growing e-mobility automotive segment.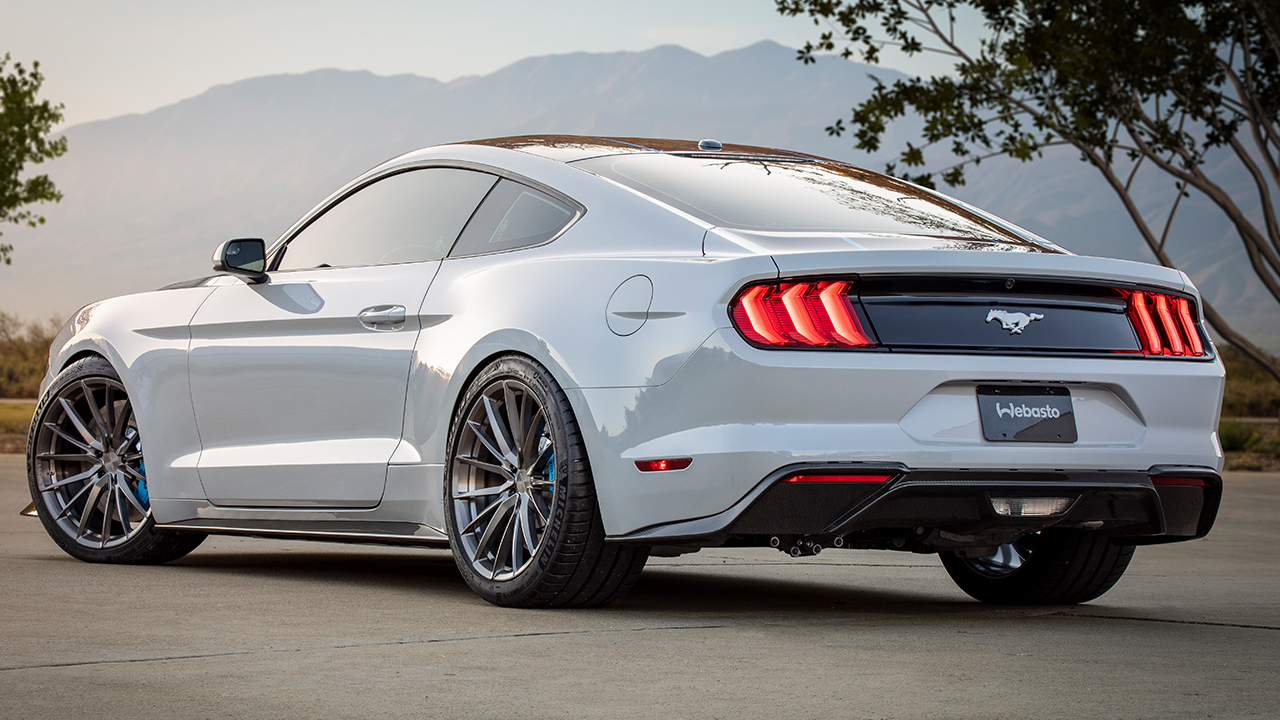 "Ford has made no secret of the fact that we are electrifying our most popular nameplates," said Hau Thai-Tang, Ford's Chief Product Development and Purchasing Officer. "This one-off Mustang prototype is a great opportunity for us, together with Webasto, to showcase to our customers what a new electrified powertrains can do for performance in a car they already know and love."
An electrified street-ready beast, Mustang Lithium is low and sleek, with custom carbon fiber body components, a 1.0-inch lowered stance and 20-inch staggered fitting forged wheels. Under the hood, the differences are electrifying: a Phi-Power dual-core electric motor and dual power inverters – all powered by an 800-volt Webasto battery system with EVDrive Technology that can discharge a mega-watt of electrical energy.
At 800 volts, that's twice the voltage of most electric cars on the road today. This allows the system to be lighter, more powerful and generate less heat, and more electric force than most battery-electric systems on the road today.
In a unique twist, Mustang Lithium features a manual transmission and uses a drag-strip proven Calimer-version of the Getrag MT82 6-speed transmission with billet internals to handle the 1,000 ft.-lbs. of torque. Ford Performance half shafts and Super 8.8 Torsen® differential help supply power to the road via lightweight Forgeline wheels wearing Michelin® Pilot® Sport 4S tires.
Additional features include Ford Performance's Track Handling Pack and strut tower brace, Brembo six-piston front brakes from the Shelby GT350R, Sankuer Composite Technologies side splitters and rear diffuser, plus Webasto hood with see-through polycarbonate windows, TurboDX charging solution and TurboCord portable charger.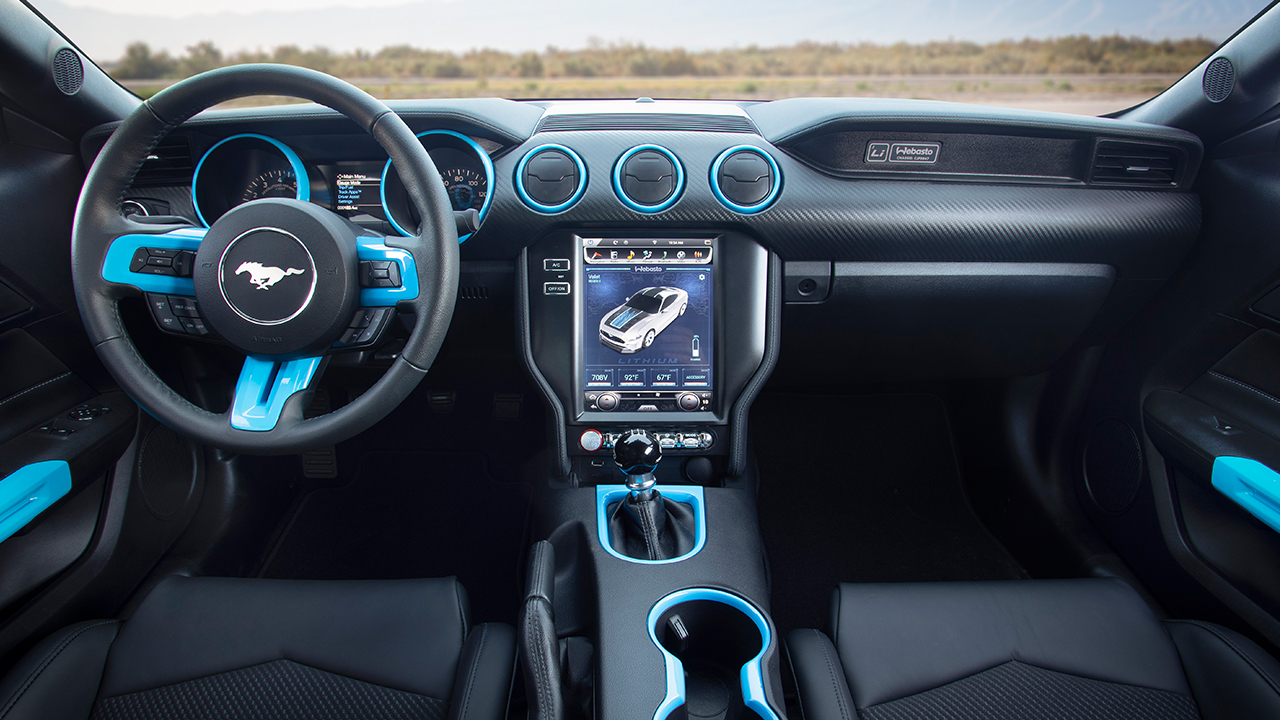 Mustang Lithium features a unique set of drive modes that apply a controlled amount of torque for different driving scenarios including: Valet, Sport, Track and Beast, and are instantly available on demand via a custom in-dash 10.4-inch touchscreen display.
"Very similar to Ford's push for vehicle electrification, this is an innovative way to further the technologies we're developing to enable vehicle electrification while creating a vision of how cool the future of electric performance will be," said Mark Denny, Webasto Customized Solutions North America President and CEO.
Electric drive is essential to the future of Ford
For more than 20 years, Ford has brought electric and hybrid-electric vehicles to the masses and has produced more than 800,000 around the globe.
Ford is investing more than $11.5 billion in electrified vehicles by 2022, including an all-new Mustang-inspired fully electric SUV in 2020 with range of 300 miles and an all-electric F-150 in a few years.
As Ford actively refreshes its lineup, the all-new 2020 Ford Explorer and Escape hybrid SUVs feature the company's fourth-generation lithium-ion battery technology, similar to the energy storage system used on the Mustang Lithium. An F-150 Hybrid also arrives next year. More than the instantaneous torque of these electric drive powertrains provide, greater levels of torque management and driver control can be enabled, plus zero emissions.
Tuesday, November 5th, 2019
Hinting at upcoming Bronco production model, Ford's Bronco R race prototype debuts in the desert to celebrate 50th anniversary of Rod Hall's historic Baja 1000 win, an overall victory in a 4×4 that's never been duplicated in 50 years
It was built for this, its engine roaring through the heat of the Mojave and its racing tires spraying desert sand. As the last grain settled, the vehicle that is all at once a tribute and a test and a tease, came in to focus. It was no mirage. Bronco – in the form of a race-inspired Bronco R prototype – is back.
As a tribute, it was appropriately parked alongside the Bronco that Rod Hall and Larry Minor famously drove to an overall win 50 years ago at the 1969 Baja 1000 – a victory that no other 4×4 has replicated. Featuring a race livery inspired by Hall's winning vehicle, Bronco R passes the torch to off-road racer Shelby Hall, Rod's granddaughter, who will drive it for portions of this year's prestigious race in honour of her late grandfather.
As a test, the Bronco R will head back to the Baja Peninsula later this month to take on the near 1,000-mile grueling off-road course and challenge the production Bronco's powertrain and architecture.
And as a tease, the Bronco R – developed by Ford Performance in collaboration with builder Geiser Bros Design and Development and Baja 1000 Trophy Truck champion Cameron Steele – drops heritage-inspired design and proportion hints of what enthusiasts can expect to see when the future Bronco makes its world premiere next spring
"Bronco's win at Baja in 1969 was epic, something that even after 50 years has not been repeated," said Hau Thai-Tang, Ford chief product development and purchasing officer. "Rugged endurance racing is such a big part of Bronco heritage. The Baja 1000 gives us not only the perfect setting to honour Rod Hall's win, it also provides an authentic test bed to demonstrate our upcoming Bronco's desert racing capability and durability."
Iconic Bronco design at first sight
Hidden behind an innocuous security door in a Ford studio basement, a small team led by Paul Wraith, Bronco chief designer, worked since July to make the race prototype unmistakably Bronco at first sight. The team worked in secret to create a one-off build that hints at the all-new Bronco to come, while paying homage to the first-generation Bronco's styling and proportions that made the nameplate an instant off-road icon a half-century ago.
The team focused on creating a race-ready look with an overall heritage-inspired design language. With its compressed body height and long-travel suspension, Bronco R features an ultra-wide stance, while a variety of aero components reinforce its performance intent. The prototype's lightweight composite body includes a clamshell hood and roof, as well as clean body panels that harken back to the first-generation Bronco models (1966 – 1977). A cut-roof design allows rear seat passengers to use a second-row hatch for access.
The exterior incorporates 15 LED light bars from Rigid, including a grille sequence framing the new BRONCO brand lettering boldly. To underscore that this is a one-of-a-kind racing prototype, the "R" is given a sharp graphic treatment. Washers inscribed with the Bronco name are visible at various points around the exterior and secure the composite skin to the roll cage beneath it.
A unique race-focused interior features lightweight off-road racing shells from Recaro for all three seating positions. Simple surfaces of the instrument panel nod to the first-generation Bronco, and the integration of a MoTeC data acquisition system enables real-time monitoring and measurement of the prototype's performance attributes.
With its exterior inspired by the winning 1969 Baja 1000 Bronco livery, the Ford Performance Bronco R race prototype pays tribute with its red, white and black colours accented by its blue space frame. No. "2069" stretches across its rear quarter-panel and wing – "20" to signal the class in which it will race and "69" in honour of the year in which Hall and Minor roared to an overall victory in the Mexican 1000 (now SCORE-International Baja 1000).
"My grandfather was so proud of the 1969 Baja race and of his Bronco," said Shelby Hall. "More than just the memory of winning Baja, he loved that Bronco. I have no doubt he would be blown away by the Bronco R race prototype."
Sketch to race prototype in six months
To mark the 50th anniversary of Bronco's Baja 1000 win, Wraith and team worked in concert with Ford Performance, builder Geiser Bros Design and Development of Phoenix, Arizona, and Baja 1000 Trophy Truck champion Cameron Steele to make the Nov. 22 race start. They used cutting-edge tools such as high-tech virtual reality, polygon modeling and 3D printing to develop parts, but also incorporated low-fidelity prototyping and role-playing to aid problem-solving and swift decision-making.
"This wasn't our usual development process, but it was the right process for this project," said Wraith. "We found, created or adapted the right tool for the task at hand – a cool and exciting blend of old and new creative techniques. We stretched ourselves, but it was worth it – and great fun."
More than a celebration of Hall's 1969 win, the Bronco R race prototype is designed with the production model's body-on-frame architecture to test its capability and durability, while also energizing off-road enthusiasts who eagerly await the return of America's original sport utility vehicle.
The race prototype is built on a modified Ford T6 architecture that will provide the base for the production model. Beefed up for Baja, Bronco R features an independent front suspension with 14 inches of travel and a production-based five-link rear chassis design with up to 18 inches of travel, plus custom Fox shocks, 17-inch beadlock-capable aluminum wheels and 37-inch BFGoodrich tires.
"Like the original Bronco, we kept Bronco R's design authentic and simple, with a roll cage on a production-style frame, and a five-piece lightweight body on top," said Brian Novak, Ford Performance off-road racing supervisor. "For the endurance needs of Baja's 1,000 grueling miles, we built in a limited number of race-focused parts. But even the twin turbos of the EcoBoost® engine are representative of what the production Bronco will offer."
For the vehicle that was, and the vehicle that will be – it's the vehicle that is. The Bronco R race prototype is no mirage. The sand is flying again, and the heat is on. It was built for this.